Product description
Overview
Caitian Bapai BA-200 Acrylic Road Marking Paint is made up of new pure acrylic resin with high quality pigment and imported excellent additives. The material is convenient to construct, does not require large equipment, and quickly solidifies into a tough paint film. It has excellent adhesion to the substrate, pressure resistance, wear resistance, weather resistance, and can be matched with various colors.
Characteristic
1. The paint film is fast drying and the construction period is short;
2. the coating film has no burrs, beautiful and generous;
3. good weather resistance, no yellowing;
4. strong hiding power, less paint per unit area;
5. single component materials, convenient construction;
6. good wettability, a wide range of applications.
Use
Painted as a road marking paint on various paint surfaces. It can also be applied to concrete surfaces. It is recommended to apply an epoxy primer first on the concrete surface.

Physical parameter
Color: yellow white
Volume solid content: 40±2%
Theoretical coating rate: about 0.25kg/m2 (film thickness 100 microns)
Proportion: about 1.34
Flash point: 11 ° C
Storage: The storage environment is required to be cool and dry to avoid direct sunlight.
Shelf life: half a year
Safety
Use this product with care. Swallowing is harmful or fatal. If swallowed, seek medical attention immediately. Skin, eyes should not touch this product. Always take precautions, fire and explosion protection. Residues should be disposed of in accordance with the safety regulations of the relevant national or local government.
Caitian Bapai BA-200 Acrylic Road Marking Paint Coating Performance Table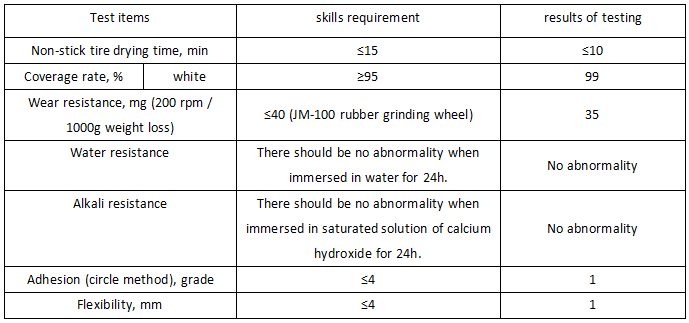 Construction instructions
Construction method: roll coating, depending on the viscosity of the material, the amount of diluent can be added, generally 5-20% of thinner can be added.
Construction conditions: The construction surface must be clean and dry, free of loose layers, oil and other pollutants. It must be dried for 48 hours after outdoor use.
Construction temperature: 10-40 °C.
Construction conditions: It is recommended to use this product above 10 °C. In order to avoid condensation of water vapor, the construction base surface is required to be dry and clean, the moisture content of the base surface is less than 4%, and the relative humidity of the air is less than 85%. Good ventilation should be maintained during construction and drying in confined spaces.
Precautions
1. The environment is required to be clean during construction, and the air is dry and dust-free;
2. During the construction and curing, when the relative humidity of the air is greater than 80%, the surface of the paint film will have back adhesion and loss of light; if the strength of the paint film is no problem, it will not affect the quality of the floor;
3. The circulation of air will affect the drying time;
4. The base oil should be uniformly coated on the base surface. The condition of the base will change the amount of coating, drying time and recoating interval.
Storage: sealed and stored in a cool, ventilated place, protected from moisture, sun, and frost.
Warranty period: 12 months.
Important statement
Caitian Company guarantees the quality of its products. The advice and information provided here is from our independent laboratory and is accurate under controlled conditions, but since we are unable to perform direct and continuous control during the use of the product, whether or not it is provided Recommendations, recommendations, programs and materials, Caitian does not assume any direct or indirect liability arising from the use of the product.
The above information comes from Shenzhen Caitian Chemical Co., Ltd., please indicate the source.